Music Reviews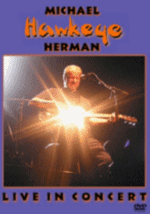 Victory Review/Acoustic Music Magazine
by Tom Peterson
December 2007
Michael "Hawkeye" Herman / "Hawkeye Live In Concert" (DVD)
Longtime Northwest favorite, by way of Midwest, Hawkeye Herman is here captured on video for those who haven't had the chance to see him in person. Understand, seeing him in person ought to be a personal priority, because Hawkeye is a captivating performer. He's a Blues guitar master, having grown up just in time to learn from the original ghosts back in the Windy City, then move to the San Francisco Bay Area in the late '60s to absorb the nascent West Coast Blues, and he tells this story while demonstrating those styles. Hawkeye is a master storyteller, too, and much of his show is chatting and spinning yarns over some chords, like a long, streaming talkin' blues. He's erudite and very funny, with a droll delivery and an expressive mug, but under the fun there's also a passionate social activist. His rap is laced with political barbs and wry commentary, and the concluding piece on this video is his take on Hurricane Katrina. He's a man with a message, and one remarkable discovery the viewer will make is that this DVD, in addition to being great entertainment, is pretty instructional, too – you learn a lot of history and politics, plus you can see his fingers and frets clearly enough to cop some licks! The production quality is modest, with a slight graininess and a single-camera view enlivened by occasional zooms, but who needs to count the hairs in his beard from every angle? The sound is fine, the performances are marvelous (there are two hour-long shows here, plus the Katrina video), and you'll want to watch it again and again.
---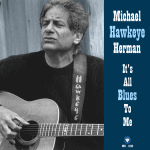 Victory Review/Acoustic Music Magazine
by Tom Peterson
February 2006/vol. 31/number 02
Michael "Hawkeye" Herman "It's All Blues To Me"
Here's one of those sensational albums that proves that even the most hidebound, constrictive traditions can find fully meaningful and authentic expressions without copying the founding fathers in style and substance. Hawkeye Herman, veteran bluesman out of Ashland, Oregon, has turned a dozen jumpin' rhythm 'n' blooz classics into something new and sinister: they're quite. This is an unplugged album, sure, but Hawkeye's messin' wit' ya. He sings coolly, low, often at a whisper ... the kind of whisper Clint Eastwood uses when he has to explain something to the bad guys. The acoustic guitar is well played, not assaulted and the rest of the backing musicians keep things toned down, creating an atmosphere of subversion, collusion and bad fun. What flat out makes this record though, is the reduction of percussion to just washboard, with the odd thump on a countertop or splash of a tiny cymbal. Washboard Chaz is Herman's ace and he's a wonder. Forget the hillbilly racket normally associated with the washboard. Chaz makes it rattle like a snake, skip like a schoolgirl, tick like a clock, or vibrate like the motor on grandma's washing machine. Chaz finds the mood for every tune, even when Herman ranges out to the far edges of the blues. There's a withering "Sixteen Tons" that reopens a song that had been "closed" for 50 years. Herman's redo of "Moondance" casts it as a roadhouse pickup instead of a supper club come-on. He finds the thread between Santana's "Evil Ways" and the oldie "You're No Good" so taught, it's a wonder they haven't always been done as a medley. Herman's got two originals that are solidly in the tradition, the melancholy "I Used To Ride That Train" and the naughty "Give Me A Grandma Every Time." Great record!
---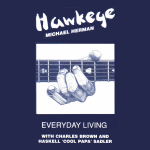 Victory Review/Acoustic Music Magazine
by Tom Peterson
February 2006/vol. 31/number 02
Michael "Hawkeye" Herman "Everyday Living"
This terrific album first appeared in 1988 to launch Hawkeye Herman as a full-time, professional blues player. Ensconced on the banks of the Mississippi in his youth, he would later begin soaking up the history and mojo from his mentors, the great showman Cool Papa Sadler and the legendary singer, writer, bandleader, pianist, Charles Brown. Ready to graduate, he waxed this mix of standards (Robert Johnson, Big Bill Broonzy, Charles Brown) and originals, establishing his coolly powerful acoustic sound that has grown into one of the idiom's benchmarks. The album gets off to a loud, swingy start on "Big Road Blues," propelled by some extra guitar from Herman's luthier, Ralph Novak. Sadler and Brown are along for tunes they wrote, the former characteristically hopping while the latter has a deep, smooth, sound. The rest is just Hawkeye alone and while we don't need to be reminded that he passed his test, it's sure nice to hear those "A" grades again.
---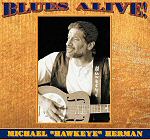 "Blues Alive!" - CD Reviews
Blues Access
by Catfish Whitey (notated as a "Catfish Choice" in this issue)
Michael "Hawkeye" Herman - "Blues Alive!" (Topaz Productions)
The only thing better than hearing this live album, recorded in Ft. Collins, Colorado, is seeing Hawkeye Herman in the flesh. Whether adding his own spin to blues classics, paying tribute to Oakland bluesman L.C. Robinson, or offering his own songs like "The Great Flood of '93," Herman is a one-man history of blues, noteworthy guitar player and inimitable communicator. Miss him at your peril.

---
Blues Revue Magazine
by Steve Walbridge
"Blues Alive!" - Michael "Hawkeye" Herman
With each passing year there seems to be fewer and fewer artists willing to get out in front of an audience and perform pure acoustic blues. Accompanied by only an acoustic guitar, Michael "Hawkeye" Herman lays down nearly 60 minutes of warm, sincere blues on "Blues Alive!" Each song is presented with a heartfelt depth rarely witnessed these days amongst all the amplifiers and studio embellishments.
Most impressive on this CD are moments such as the intro to "Nobody Knows You When You're Down and Out," where Herman tells us of his initial flirtation of learning to play guitar. "Your Mind Is On Vacation" demonstrates Herman's willingness to have fun with life and music, while Robert Johnson's "Come On In My Kitchen" and Big Bill Broonzy's "Key to the Highway" are the most solid traditional contributions to "Blues Alive!"
Herman finishes the CD with an a cappella version of his own "Hawk's Worried Blues," demonstrating a willingness to stick his neck out even further. Throughout "Blues Alive!", Herman proves to be a seasoned storyteller above all, as well as an accomplished guitarist.
---
Living Blues Magazine
by Peter R. Aschoff
Michael "Hawkeye" Herman, "Blues Alive!" (Topaz Productions OWR-0110)
Hawkeye Herman is an acoustic guitarist who blends classic covers (Robert Johnson, Bill Broonzy, Mose Allison) with original tunes that often take a topical perspective ("The Great Flood of '93" is about the devastation that year in his home state of Iowa). Whether fingerpicking or using a slide, Herman plays with a sensitive, reflective touch that continually draws attention to his vocals, which are effectively understated and free of affectation. The train song Rocket to Chicago" shows that Herman can rock with the best of them. A solid choice for fans of traditional acoustic blues.

---
Sing Out!
by John Lupton
Michael "Hawkeye" Herman - Blues Alive!
As acoustic blues go, it doesn't get much more basic than sitting alone on a stage with a guitar and letting it all hang out, which is exactly what Michael Herman brings us with his latest release. Recorded live in May 1995 at the Bas Bleu Theatre in Fort Collins, Colorado (occasional extraneous background street noise included at no extra cost), Herman performs 14 songs covering blues standards from the likes of Robert Johnson ("Come On In My Kitchen"), Big Bill Broonzy ("Key To The Highway"), Mose Allison ("Your Mind Is On Vacation") and Blind Willie McTell "Statesboro Blues"), as well as his own compositions ("The Great River Road," "The Great Flood Of '93," "Rocket To Chicago"). Playing both fingerpick and slide guitar, Herman's licks are clean, yet spare, just enough to carry the music. Likewise, his vocals are direct and straightforward, but full of emotion, as on his renditions of Percy Mayfield's"Lost Mind" and Robert Kelton's "Man Or Mouse." Not pretty, but then, this is the blues.
In a career that now spans more than 30 years, "Hawkeye" Herman has played with and for many of the leading bluesmen of the century, written and performed for theater productions (El Paso Blue), and provided soundtrack material ("The Great Flood Of '93" was used in documentaries of the Midwest floods of that year). Beginning with his Iowa boyhood in the Quad Cities, listening to the music coming over the airwaves in the heartland of the blues, he has immersed himself in the sound and feeling and has emerged as one of the most widely respected acoustic blues musicians around.
Blues Alive! ain't electric, doesn't have drums and such, wasn't produced in a high-tech studio, but it's about as real as the blues gets.

---
Up & Coming Magazine - Fayetteville, NC - "Picks and Cuts"
by Elliott Crews
Michael "Hawkeye" Herman - Blues Alive!
Michael "Hawkeye" Herman has put in over thirty years as a traveling bluesman, learning from many of the greats in the business along the way. If Blues Alive! is any indication, he learned his lessons well. This CD features classic tunes like Blind Willie McTell's "Statesboro Blues" and Robert Johnson's "Come On In My Kitchen" along with outstanding self-penned tunes like "Rocket to Chicago" and "The Great Flood of '93." The story that introduces the traditional song, "Sitting On Top Of The World" is a gem and "Man or Mouse" is packed full of humor. However, what makes this an especially noteworthy effort is the heartfelt presentation by Herman. He is a gifted guitarist, relaxed singer and topnotch storyteller. Any fan of acoustic blues or folk music will be pleased. (rating: 4 out of five stars)
---
CD Pick of the Month
Delta Kitchen Blues Page
by Glenn Adams
Michael "Hawkeye" Herman - Blues Alive! - Topaz Productions (OWR-0110)
"For the many blues fans who lament the modern day departure from the traditional acoustic storytelling blues of such old time bluesmen as Big Bill Broonzy, Mississippi John Hurt, Lightnin' Hopkins, Brownie McGhee and Skip James there comes a dobro-toting troubador who is well-known on the concert circuit but will be a refreshing newcomer to the blues purchasing public the world over. Michael "Hawkeye" Herman, a mainstay of the Bay Area blues scene, hits some very profound and emotional chords on his long awaited debut album Blues Alive!. The Oakland-based Herman plays his blues with all the soft-spoken charm and humor of a Lightnin' Hopkins yet not lacking in the angst and pathos of a Broonzy or a Hurt. Blues Alive! is a remarkable display of a well-seasoned bluesman playing with the controlled emotion that makes the blues sound much easier to play than it actually is.
Hawkeye's beautiful renditions of such diverse blues classics as Blind Willie McTell's "Statesboro Blues", Broonzy's "Key To The Highway", Robert Johnson's "Come On In My Kitchen" as well as "Sitting On Top Of The World" and "Nobody Knows When You're Down And Out" do not detract in any way from the strength and originality of his own songs. He has all the earmarks of a great lyricist proven in his songs "Rocket To Chicago", "Hawk's Worried Blues" and "The Great Flood of '93" which recalls the Mississippi River's overtaking of Hawkeye's native Davenport, Iowa. He is a natural storyteller who can hold his audience at rapt attention, much in the same way as Lightnin' Hopkins, and he can take a topic as mundane as a passing train in the night and turn it into a chugging vital and living folk tale. His mastery of the guitar forms a slow rocking, good feeling backdrop for the multi-faceted scenarios of the songs he plays on Blues Alive!
Recorded live at the Bas Bleu Theatre in Fort Collins, Colorado in May, 1995, Blues Alive! loses none of the atmosphere of Hawkeye's actual performance in the transition to a recording. On the second track, a sweet cover of Mose Allison's "Your Mind Is On Vacation" the audience shows it's hearty appreciation of the song's humor and Hawkeye's perfect economy of notes and pregnant pauses as well as the use of his great vocal prowess to create effect gives the songs a tremendous power that isn't present in the hands of some other musicians who labor under self-imposed exigencies, trying too hard to be authentic. Hawkeye is above such futility. He plays the blues like Bill Broonzy did, from the inside out. From the soul.
Blues Alive! by Michael "Hawkeye" Herman should be required listening for the newcomer to the blues as well as the veteran. It will teach the newcomer and remind the veteran that this is the blues as it was meant to be played. This is the music that rose from the soils of the Delta long before anyone had ever conceived of an electric guitar. Blues Alive! is soul-healin' blues."

---
"Blues News" - Mississippi Valley Blues Society
by Ed Longenecker
"Okay, show of hands: How many of us owe all or a major portion of our introduction to the blues to Hawkeye Herman? Just as I thought -- too many to count. All right, you can put 'em down.
Now, how many of us have about worn out our copies of "Everyday Living" and have been eagerly awaiting a new release from The Hawk? Uh-huh...as I thought again.
Well, for those of us who have had to content ourselves with "Everyday Living" these many months, the wait is over. Hawkeye arrived at BluesFest '97 locked and loaded with copies of his long-time-coming second album. "Blues Alive" is a treasury of live recordings (plus a token from the studio) that does a great job of bringing Hawkeye's music, storytelling and commanding stage presence right into your living room. It's a 55 plus minutes of essential Hawkeye: musician, storyteller, teacher and traveling goodwill ambassador for the blues.
So it's only fair that he opens with "The Great River Road," a deftly-executed boogie peppered with a personal comment or two, then right into Mose Allison's "Your Mind Is On Vacation" (a favorite of mine), nicely iced with a bit of "hum-and-strum."
A mournful "Statesboro Blues" provides a much more appropriate framework for the lyrics than the fast versions out there, and "Nobody Knows You When You're Down and Out" contains a warm tribute to the music store owner that helped Hawkeye get started playing. The lone studio take is "The Great Flood of '93" -- if you had anything to do with the BluesFest that year, buy the album for this track alone.
"Stones In My Passway/Kindhearted Woman Blues" is a double tip of the hat to Robert Johnson, then a slightly expanded reprise of Hawkeye's original "Rocket To Chicago" drops you off at LaSalle Street Station. Then it's on out to the East Coast for a smooth treatment of the moody "Lost Mind," followed by "Sitting On Top Of The World," complete with a tribute to L.C. "Good Rockin'" Robinson and some traveling through the crowd by the troubadour.
From there the album segues gently into "I've Got The World On a String," then a cry and a moan from the old wooden National announces a cleanly executed rendition of Johnson's "Come On In My Kitchen." Another reprise from the first album, "Man Or Mouse," is even better with a crowd, and "Key To The Highway" takes it on home, chased by "Hawk's Worried Blues," an a capella original that reminds us that the human voice is the true instrument of the blues.
From a technical aspect, one thing that is notable about this album is actually something that's missing -- that couple of seconds where the listener has to adjust between what he's hearing from the CD player and what he heard in the live show. Not that I haven't reached for the effects processor once or twice myself, that's cool, too. But there's a lot to be said for being able to capture the essence of the performance and keep it from getting away by the time the final mix is in the can. And anyone who's ever sat at a console will tell you, this isn't easy. Hawkeye mentioned that they were after just that, and I can assure you that they nailed it here. For those of us who still hold fond memories of the first (or last) performance or workshop that we saw and heard Hawkeye Herman, this album will refresh those memories with every listen."

---
Holler - Colorado Blues Society
by Ray Hoffman:
"After what seemed like an endless wait, the new CD from "Hawkeye" Herman is here. Taken from a live performance at the Bas Bleu Theatre in Fort Collins, Colorado, the listener is treated to the music of one of the finest performers of acoustic blues in the business today. Hawkeye treats the music of his influences, whether it's from Mose Allison, Robert Johnson, Big Bill Broonzy or others, with deserving skill and reverence, while at the same time entertaining Bluesfans with his own special talent of musical storytelling ability. His evocative, powerful, hard-driving style is evident in every cut, illustrating his mastery of both a haunting slide guitar and a clean, well-honed fingerpicking method. There is so much music on this album that Bluesfans will find themselves listening to this CD several times to appreciate the treasure of great music. This recording is evidence to the reason why Hawkeye is in such demand at Blues festivals around the country, and why his Blues-in-the-Schools program has received great critical acclaim."
---
Kansas City "Blues News"
By Stewart Nelson
Michael "Hawkeye" Herman, "Blues Alive!" (Topaz Productions OWR-0110)
What would you get if Robert Johnson, Big Bill Broonzy and Arlo Guthrie weren't three men, but one?
And what would it sound like if 20 or so years ago a little 14-year-old kid in the railroad and river Quad Cities of Iowa and Illinois (Rock Island Line and the Mighty Mississippi) went to a pawn shop, got a guitar and became that man? The questions are rhetorical, the answer is physical . . . you get "Hawkeye"!
Hawkeye's musical mixture of blues styles with voice range and chord changes builds on the traditional pickin and strummin of Robert Johnson on the slide by working with contemporary benchmarks such as on selection #5 "The Great Flood of '93."
On selection #7, "Rocket to Chicago," Hawkeye lays down a Guthrie seasoned overtalk to what could easily be a Jed Clampett toe-tap shuffle stepping hootenanny.
One man, one guitar, one voice. With low end string resonance complementing his mid-range vocals, this full acoustic solo concert fills your hat holder with images. Foot pats become railroad clacks on selection #3 "Statesboro Blues." It and #9 "Sitting on Top of the World" (a 7-minute string massage of Bonnie and Clyde's favorite tune) stand out as excellent examples of visioning stimuli.
My favorites, in addition to the above, are #4, "Nobody Knows You When You're Down and Out," wherein gracious acknowledgement is made to the owner of a music store who didn't bust a 14-year-old kid who sought a knowledge of music, #11, "Come On In My Kitchen," and #13, "Key to the Highway."
My impression . . . Hawkeye sings his songs standing tall on the neck of one Muddy Clean acoustic slide.

---
Illinois Central Blues Club News & Reviews
by Larry Roerig
Michael "Hawkeye" Herman: Blues Alive
I like the idea of recording a performance with a live audience of real people -- it brings a quality of intimacy to the listener's ear and emotional reaction to the artist. As on this CD. I felt like I was in the first row and Hawkeye was happily doing his thing for me right along with the warm, light-hearted group sitting in a small cozy room somewhere in a peaceful small town. One thing kinda neat (if a bit distractiing at first) is that he moves around, so he sorta fades some times. I like ths CD, but I'm sure not everyone will.
I've mentioned this before, but will repeat: I'm not a guy that knows how to distinguish different musical styles. Since I joined ICBC, kind folks have been trying to educate me. Using that as a base, I can state "this is NOT a hard blues act." There, I said it boldly! I even think I know what I meant.
This CD is a vocalist with an acoustic guitar. And a slide (I know that from the photo. I guess that if I were to get into the mechanics of it I could probably tell when he uses it. But I'm not interested in that part. I just enjoy.). The man is a story teller -- and a good one. Hawkeye opens with an instrumental that eases me into a mellow mood. Then he tickles me with a tune called "Your Mind is on Vacation" (but your mouth is workin' overtime). Hawkeye (because he was born in Iowa) works out of California, but on this CD his midwest self is very evident whether he tells you about "The Great Flood of '93," and "The Rocket to Chicago" (a good train tune), or sings well-known songs like "Sitting on Top of the World" and "I've got the World on a String."
Hawkeye has a good voice which he uses like the instrument it is. Sometimes it's slightly nasal; sometimes a bit slurred. He varies volume and timing depending on what he is telling you. His guitar is also one of his voices. I have no doubt that if a body had a "good ear" and some talent he could actually learn to play a guitar from just listening to Hawkeye. Each string is fine and clear by itself and when played with its brethren. Close your eyes and that train is there. This is good listening stuff and a credit to any collection.

---
Mississippi Valley Blues News
by Mike Hogan
Michael "Hawkeye" Herman - Blues Alive!
This new release from the Quad Cities' own Michael "Hawkeye" Herman is recorded live at the Bas Bleu Theatre in Fort Collins, Colorado. For those of you not familiar with Hawkeye, it is solo acoustic blues with the artist playing various guitars and singing. The song selections run from traditional blues from the 20's and 30's, originals, originals, and even an a cappella number. Hawkeye's guitar stylings are folk/blues, fingerpicking, slide, and my favorite, National slide guitar with that nasty, old resonator. Hawkeye is a blues historian and storyteller and the live setting is a perfect vehicle because this is what it is all about.
The Great River Road is a solid self-penned instrumental, which sounds like the opening number in his act. It gives him a chance to warm up the digits and get the audience in the mood and groove for the rest of the show. Your Mind Is On Vacation is a Mose Allison number that is good for some laughs and features some nice picking. Statesboro Blues is done in the traditional style and the way it was originally intended. It won't conjure up images of the Allman Brothers. Nobody Knows You When You're Down And Out is one of my favorite cuts on the CD. It features nice chording and some of Hawkeye's best vocals on the release. This has always been a favorite song of mine and this version put me in a blue frame of mind.
The next song, The Great Flood of '93, should be near and dear to Mississippi Valley Blues Society members and fan's hearts. This is Hawkeye's best known song and has been recorded in various formats numerous times. The title says it all and the story should be familiar to everyone who lived through the disaster. Stones In My Passway / Kindhearted Woman Blues, is a seamless pairing of two Robert Johnson numbers. Rocket to Chicago is a jumping slide number that pays homage to that time honored mode of transportation, trains. This is another Hawkeye original with the storytelling theme running throughout. Lost Mind is a Percy Mayfield song that is another favorite. Anytime someone includes a Percy Mayfield song, you know they have good taste in material. Sitting On Top Of The World has a great lead-in story and is done in traditional style.
Come On In My Kitchen is played on National guitar with a resonator and is my favorite song on this release. I love slide guitar with resonator. That raw, metallic sound is like no other guitar and it really pumps the blood in my veins. Using it on this Robert Johnson song is a perfect pairing of song and instrument. Man Or Mouse is a funny song that should strike a familiar chord with any man that is honest with himself. Key to the Highway is done in traditional style with a great guitar sound. The last song, Hawk's Worried Blues, is an original composition done a cappella.
Hawkeye is a clean, precise player with a clear sound. His playing is always tasteful, restrained and in tune (something that most people take for granted and is not always the case). His singing is serviceable and stays within his range. He uses dynamics with his guitar and his voice to set the mood and get the proper shading for his songs. He's a true professional who knows how to structure a live set for the best effect, and this is very evident on this release. He has always been the Mississippi Valley Blues Society's favorite son and this release demonstrates why he has played this Festival more than any other entertainer.

---
Delta Snake
by Al Handa
Michael "Hawkeye" Herman: Blues Alive! (Topaz Productions)
Michael "Hawkeye" Herman is a solo acoustic Blues artist who plays music ranging Big Bill Broonzy to Mose Allison, with a guitar style that compares favorably with Mance Lipscomb. Michael is a Bluesman who makes sure the song is number one, and doesn't use the Blues as a picking exercise accompanied by some vocals.
This set was recorded live at the Bas Bleu Theatre in Fort Collins, Colorado. The music has a relaxed feel, and Herman sings with great subtlety and emotion. His voice is shown to especially good effect in "Lost Mind," a fine cover of a Percy Mayfield song.
The set opens with an instrumental, "The Great River Road," moving into the Mose Allison classic, "Your Mind Is On Vacation," done here as languid raggy Blues. Next up is a reflective version of "Statesboro Blues." One thing that becomes apparent is that Hawkeye interprets
classic Blues from a highly personal point of view. In the last two numbers I've just mentioned, both are done in radically different fashion than the originals.
Also, in originals such as "Rocket To Chicago," he creates Blues with such authentic feel that one doesn't realize it isn't a cover until the liner notes are checked. Another standout is the last
cut, "Hawk's Worried Blues," which is done a cappella, and has a feel similar to an old spiritual.
From a technical standpoint, the CD does have much to offer. The Mance Lipscomb parallel strikes me as the most appropriate. While Mance wasn't the fastest picker around, he was certainly once of the most versatile. Someone who could pick a jaunty Piedmont rag,
move into a swing Blues, then kick into an uptempo Folk-Blues with a voice that could make it all sound like different facets of one single style.
One of the best acoustic Blues records I've heard in a long while. I could say Michael is one of the best acoustic Blues artists around, but I'd go further and say that the Spirit of Mance Lipscomb lives in this guy, and I can't think of any higher praise than that.

---
Delta Boogie.com
Delta Pickin's with Leon
Michael "Hawkeye" Herman - BLUES ALIVE! - Topaz OWR - 0110
Coming from Davenport, Iowa, "Hawkeye" is quite at home in the Delta or in Chicago and so is his music. On this release, the man proves he is at once a great blues singer, songwriter, guitarist, storyteller and entertainer so I choose to call him a great blues musician, not "just" a bluesman! The lucky crowd at this 1995 performance in Colorado certainly seem to be enjoying themselves and "Hawkeye" thrives on it and you will share in the pleasure too upon hearing the show.
In 1998, "Hawkeye" was honored with The Blues Foundation's "Keeping the Blues Alive" Award in Memphis, TN, which is a part of the Handy Awards ceremonies weekend. Quite a well deserved accomplishment. Having been a professional blues musician for over thirty years, his CD, "Blues Alive!", was considered by many to be one of the best blues CDs of 1997 and I agree.
After nearly two decades of making people aware of the Blues through his "Blues in the Schools" program and starting up those programs for Blues societies as well as his educational workshops at blues and folk festivals, Michael "Hawkeye" Herman has proven to be one of the leading
exponents of the Blues. And you would have to look far and wide to find a nicer guy to do the job too. Do yourself a favor and get this CD right now and soak up all of the wisdom he shares and laugh along at his jokes too because "Hawkeye" will surely keep you entertained for quite a while.
A contributor to Delta Boogie, "Hawkeye" does the Tale Feathers column and you definately need to check it out. He is guaranteed to enlighten you with his wit and wisdom. This guy is Great!
---
The Blues Crier - Central Iowa Blues Society
by Kim "Nappy" Niles
Michael "Hawkeye" Herman - Blues Alive!
Blues Alive! is exactly the right title for this CD. This is real acoustic Blues recorded live, the only way Blues should be heard. Before I get too far, I have to apologize to Hawkeye and you folks 'cause I was supposed to do this in November. Sorry, Hawk.
Blues Alive! is an excellent mix of Hawkeye's own material and some standard and obscure covers. This disc starts out with Hawk's own "The Great River Road," an instrumental as real and traditional as anything I've ever heard. Then comes the Mose Allison's "Your Mind is on Vacation," a first sign of his humorous side. I like that, some Blues musicians can get too heavy, but not on this CD. Next, a fine rendition of Willie McTell's "Statesboro Blues." Close your eyes and picture yourself on the front porch of a shack by the cotton field. Hawk relates a story of when he was a kid starting out and wrote the chords on his hands at the music store. This was one of the first songs he ever played and he serves it well - "Nobody Knows You When You're Down and Out."
"The Great Flood of '93" is something most of us can relate to, especially Mississippi Valley Blues Fest fans. Hawkeye is a regular at the Fest and he is originally from Davenport, IA. That was a time and this is a song that will be long remembered.
There are several reverently played Robert Johnson songs - a medley of "Stones in My Passway" with "Kind Hearted Woman Blues" and later in the CD, "Come On In My Kitchen," one of my favorites. Both are done with obvious respect for the master.
Of course, to me, the best track on the CD is Herman's "Rocket To Chicago," being as the best job I ever had was with that old Rock Island line. The song is a tribute to the once mighty passenger train. The old Rock Island is dead and gone, ya, he's gone, but Hawk's still here. Catch his set if you can. Get the CD and you can hear him anytime you like.
Percy Mayfield's "Lost Mind" is a great Blues tune, really, but I doubt if you'll hear any other artist clever enough to record this song. Another favorite song is a traditional version of "Sittin on Top of the World." It starts by Hawkeye relating the story told him by L.C. "Good Rockin'" Robinson, a great Oakland Blues man Hawk spent much time playing with. L.C. was in Oklahoma in the 30s and this couple gave him and his brother a $20 gold piece to play "Sittin on Top of the World" while they ate ice cream cones. That couple turned out to be Bonnie and Clyde and "Sittin on Top of the World" was their favorite song. This song itself is worth the price of the CD. "I've Got the World on a String," is a happy, uplifting little ditty. Along with "Man or Mouse," Hawk's fun loving personality again shows.
The CD finishes up with two great Blues tunes: Bill Broonzy's "Key to the Highway" and an original, "Hawk's Worried Blues," an acapella, because the voice is the original and ultimate Blues instrument. He not only sings and picks the Blues authentically, but writes them as well. It's been said by some that white folk can't sing or play the Blues, but this CD, among others, proves that false. Hawkeye is easily in the caliber of Kelly Joe Phelps, Alvin Youngblood Hart, Keb Mo, Corey Harris and John Hammond. Discover Hawkeye Herman if you haven't already. Blues Alive! is just that. Support a home boy. Great CD, Hawkeye. Keep On!!!

---
What's Blue on CD
by Dr. Soundsgood
Blueseye / Crossroads Blues Society
Michael "Hawkeye" Herman - Blues Alive! (Topaz)
This disc contains 14-tracks of Hawkeye's intimate acoustic blues captured live at the Bas Bleu Theatre, Ft. Collins, CO. This Iowa native can play a wide variety of tasty acoustic blues. From Mose Allison's "Your Mind Is On Vacation" and Robert Johnson's "Stones In My Passway" to originals like "Rocket To Chicago." Hawkeye is more than adequate as a vocalist, but his specialty is his superb fingerstyle guitar playing. His playing is fluid and consistent.
Hawkeye is also a good storyteller. On several tracks before he starts the song Hawkeye gives some history of his life growing up in the Quad Cities. He wrote a very inspiring song called "The Great Flood of '93." The song tells of the devastation that the flood created in his hometown area.
Other tracks I highly recommend are "The Great River Road," "Lost Mind," and a gripping version of Robert Johnson's "Come On In My Kitchen." Undeniably, this "Hawkeye" has one eye on his community and one eye on the blues.
SOUND=GOOD PERFORMANCE=VERY GOOD
---
CD Reviews
by Eddie Hodge
Blueseye / Crossroads Blues Society
Michael "Hawkeye" Herman - Blues Alive! (Topaz)
I'm back at my "CD Review Desk" and I have decided to tackle as my first project, a new CD entitled "Blues Alive!" recorded by one of the masters, Michael "Hawkeye" Herman. My definition of a master is one who writes, arranges, and performs in an excellent fashion and has been on the scene for some years.
Hawkeye wrote four of the songs on this outing. The CD starts with one of his originals, "The Great River Road." If you're a resident of the Quad Cities, you know that no road is too far from the mighty Mississippi River. Its scenic view would inspire many beautiful songs. Hawkeye decided to call his "The Great River Road."
It's tough for a solo artist to keep the attention of his audience, unless the artist is skilled enough to put it all together, and let there be no doubt in your mind, Hawkeye is - The Man.
With the rollicking opening song, the stage is set for what's to come. Hawkeye makes you feel like you are actually jogging down the road, observing all of its breathtaking beauty.
The second track, "Your Mind Is On Vacation and Your Mouth Is Working Overtime," is a humorous tribute to many people in the world today. Hawkeye pays tribute to the great Mose Allison with his rendition of this song. Mose would appreciate greatly Hawkeye's interpretation of the song.
Who could forget the "Great Flood of '93." This flood sent many local musicians to the manuscript paper, writing songs about the Mississippi River's devastating effect on the area. This song is, by far, one of the best written and performed.
Hawkeye cranks up the engine on "Rocket to Chicago," and just like a good conductor, he musically calls all of the cities names to the end of the line.
Hawkeye takes his plunge into the pop field with his mellow stab at "I've Got the World on a String." Again, it shows the versatility of a master musician.
The comical "Man or Mouse" track reminds me of a new blues recording that states, "As long as you don't say pass cheese."
The CD closes with a mean "Hawk's Worried Blues." A pull out all the stops closing for an excellent CD.
Regardless of your taste in music, this CD is a must have for all serious collectors. It is a well-balanced, well-performed musical gem.

---
Michael "Hawkeye" Herman - Blues Alive!
Around these here parts, especially on the music scene - "Hawkeye" Herman is as well-known as the Mississippi River. This is one guy who delivers a really good tale - but plays one really great guitar, which is obvious on his own opening song The Great River Road. The dynamics of this CD alone make this a most provocative listen - Hawkeye really knows how to bring you into the song, giving some thoughts more emphasis, just as he does with his guitar. Maybe it being a live recording also adds so much, regarding the storytelling aspect of Hawkeye's music - the best track to explain this is his song Rocket To Chicago, you hear the train throughout the song through the guitar, but it's still a fantastic story by itself. When it comes to some great straightforward blues - Man or Mouse, (you be da man Hawkeye), or I've Got The World On A String, (you do Hawkeye) - this CD won't disappoint you! Like the Mississippi Hawkeye, keep on rollin'!!! R.C.
---
Blues Freepress
by Judge Jones
Michael "Hawkeye" Herman - "Blues Alive" Topaz Productions 0110
This 14 track 1997 own label album is "The Big H" in concert recorded in the Bas Bleu Theatre of Ft. Collins, Colorado in May of 1995. "Hawkeye" has 'em on the edge of their seats with this extremely sincere performance, the atmosphere of the auditorium is almost palpable and his renditions of traditional, standard and self-penned songs are slick and well crafted. The sleeve notes feature a quote by The San Francisco Examiner which says: "...a mean, clean guitar picker." Agreed but often he's too squeaky clean, at which point the performance pales by several shades. However, he keeps a trump card up his sleeve as a sure-fire show closer, this comes in the form of an acapella own composition, "Hawk's Worried Blues" which sets off tumultuous applause. If you crank up your sound system and position your speakers just right, you can put yourself in the front row right next to the Mayor.