Awards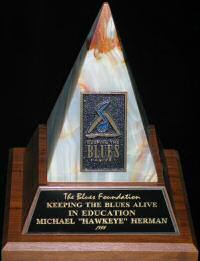 Keeping the Blues Alive
Blues musician Michael "Hawkeye" Herman has been named recipient of the Blues Foundation's 1998 "Keeping the Blues Alive" Award for achievement in education. The honor will be presented at the KBA Awards Banquet, on Friday, May 1st, 1998, in Memphis, TN, as part of the Handy Awards Weekend.
Herman has been a professional musician for over thirty years, touring extensively throughout the US, Canada, and Europe, performing at festivals, in concert, and in clubs. His recently released CD, "Blues Alive!", has garnered rave reviews in the major blues and folk publications, and was named by many as one of the best blues albums of 1997.
His selection for the "Keeping the Blues Alive" Award is the result of 16 years of dedication to bringing blues music to students of all ages through his "Blues in the Schools" program and his helping initiate such programs for blues societies, as well as educational workshops at blues and folk festivals.
Hawkeye has reached out to a diversity of students, from pre-school to the college level. The list of institutions that have benefited from his presentations ranges from Stanford, Colorado, and Arkansas State Universities, to elementary, junior and senior high schools in his home area of the Quad Cities, along the Mississippi River in Iowa and Illinois. He credits the support of blues clubs and societies, like the Mississippi Valley Blues Society in Davenport, IA, for the rise in interest in blues music, and for helping to bring "the watershed of American popular music" to young people.
"My mission is to let young folks know that the blues is an important aspect of American music history, influencing other styles of music in the past, right up to the present," Herman states. "Blues is the real deal, the story of the human experience, and that will always hold a place in the hearts and minds of the people. I'm trying to ensure, through my educational programs and workshops, that future generations are aware of their own rich musical heritage.
"The personal satisfaction of doing what I love, combined with reaching out to people, are wonderful rewards in themselves. I am most honored, grateful, and encouraged to be recognized for my efforts by the Blues Foundation."